Marc Van Camp Owner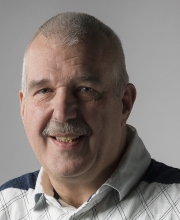 Born in Antwerp, September 1956.
Education
Industrial Engineer degree at the "Katholieke Industriële Hogeschool Antwerpen (KIHA)"
followed by the "Katholieke Universiteit Leuven (KUL)" where he graduated as Civil Engineer in Electronics, specialized in Integrated Circuit Design.
In his 15 years of Professional Career:
His leading step in the IT-business was with Alcatel Bell where he was responsible for the Computer Aided Design department for VLSI (Custom IC design) and PCB (Printed Circuit Board) design. Seamless integration of complex design and information systems was his main occupancy, resulting in an "Integrated VLSI Design System (IVDS)" and a "Integrated PCB Design System (IPDS)". During his time at Alcatel he also reported to Alcatel Headquarters as Area Manager responsible for the implementation of the VLSI and PCB design systems (IVDS, IPDS) as a common approach throughout all European Alcatel Design Centers. The main purpose of standardizing on common design tools was to align the exchange of huge and complex amounts of design information between the different Alcatel Design Units, which were geographically dispersed all over Europe.
In 1990 he joined Canon Business Machines Belgium as System Consultant. Within his stay at Canon (since 1995 Canon Benelux) he was responsible for the technical marketing strategy of all system related products: digital color copiers, digital B&W copiers, digital imaging systems, document and image management systems and network fax systems. As system consultant he was also part of the Canon Benelux Internet Work Group for the definition of the Canon Benelux Web Site. He was also the driving force behind the development (1994) of a (Lotus Notes Based) Technical Knowledge Base and a Customer Call Tracking System for the System Support of Canon's Professional Office Systems. As a member within the CFSE group of Canon Europa he was also involved in the definition of Canon's European Document and Image Management Systems. Throughout his time at Canon, he has learned that customers have a need for advice and coordination to integrate and implement solutions in their business processes.
In order to provide todays corporations a clear view on an implementation path which allows to adapt to the new information standards, he founded his own company which offers consulting services, independent from any hard- and software manufacturer.